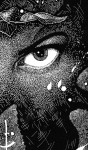 The then planned book, a collaboration with the the musician and writer Christian Dörge , was never realized. Some of the drawings were printed in fanzines, most of them remained unpublished.
To get the white lines on black background I drew the negative images with black ink on white paper and inverted the scanned drawings with Photoshop (back in the 90's I used a laser copying machine to achieve the same result).
Two more drawings for a Text by Christian Dörge hier.
---
---
---
---
---