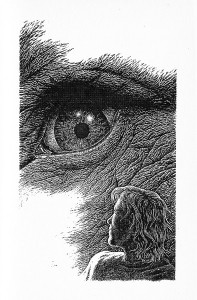 The novel, published in paperback by Bastei Lübbe, is the sequel to The Rings of Power – not quite so close to the Lord of the Rings as its predecessor (in the second part there's a lot of time travelling going on), but still with substantial and, as in The Rings of Power, deliberately used Tolkien reminiscences.
The original drawings are missing, therefore I scanned the book pages.
---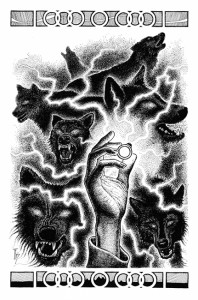 The novel was published in paperback by Bastei Lübbe paperback in 1997, and it is exactly what its title suggests: A deep bow to Tolkien.
When I read the first 100 pages of of the manuscript back then I was slightly irritated by by the extent of references to
The Fellowship of the Ring
, but once I had accepted the whole thing as a deliberate pastiche, and since the novel later on develops in quite another direction, my irritation abated. The authors know exactly what they do, especially
Helmut W. Pesch
, whose doctoral dissertation "Fantasy – Theory and History of a Literary Genre" from 1981 is the German standard reference book on the subject. Since I had read the study years ago, I was all the more glad when Bastei commissioned the illustrations for the novel.
The sequel
Die Herren der Zeit
(The Lords of Time)
was published in 2000.
---